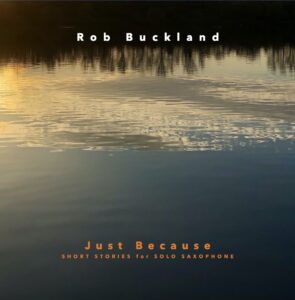 Absolutely delighted to announce that my new Solo CD "Just Because – Short Stories for Solo Saxophone" is now available! You can purchase physical copies of the CD direct from me through this website, https://www.robbuckland.com/recordings/and it's also available through Bandcamp, for downloads too. https://robbuckland.bandcamp.com
The CD features 9 stunning solo saxophone pieces by Graham Fitkin, Jay Capperauld, Gwilym Simcock, Gary Carpenter, Sally Beamish, Julian Argüelles, Jenni Watson & Andy Scott, and a suite of five original works for solo saxophone and backing track that I have written for this project. (One each for Soprano, Alto, Tenor, Baritone and Sopranino Saxophones, with backing tracks generated ONLY on the respective solo instrument).
It's been a HUGE labour of love throughout the last 10 months, and I am really pleased with the result – I wanted a CD that explored the narrative side the saxophone, it's ability to capture sounds, emotions, colours, and most importantly to convey story, take the listener on a journey that is about music, sound, emotion, theatre, rather than the saxophone for it's own sake.
PLEASE GO TO THE RECORDINGS SECTION FOR MORE INFO AND TO ORDER!
RB 16 Mar 21